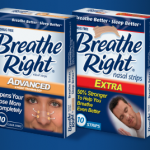 A free sample of Breath Right Nasal Strips is still available for request!
I learned of this product sample from the free email alerts I receive thanks to WomanFreebies. WomanFreebies is my daily go-to-savings-site for great money saving coupons, free product samples and fun giveaways. And once you have signed up with WomanFreebies, you can re-visit the site daily on your own or, enjoy the once-daily email alerts to direct you to some great savings!
Now, let's get you that sample! Click
HERE
to request your 1 free sample
Then, click
HERE
to sign up with WomanFreebies and confirm your email address. Daily email alerts will begin immediately.